Pipeline
The freedom that comes from riding two wheels is like no other. From the first time that you rolled past the end of the driveway, to the most recent ride on your favourite singletrack trail. The evolution of how you ride will change, but your love for the ride never should. Wade Simmons and Jesse Melamed are generational masters of our sport and are driven to push their own limits using new technologies to help ride trails in a new light.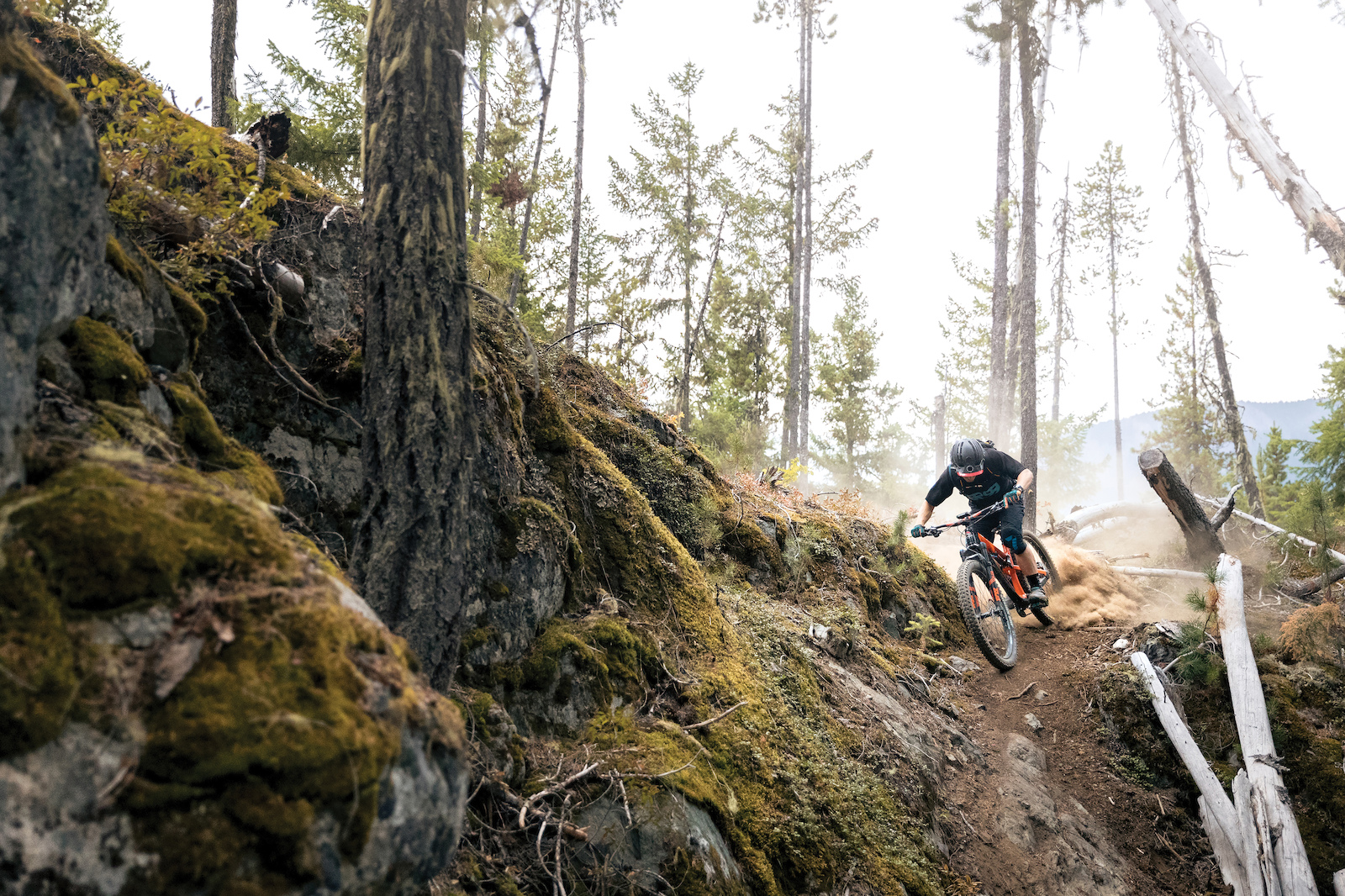 "My motivation in mountain biking has always been to find creative lines and link uber-tech sections with fluidity. Having up to this point ridden 2.3–2.5 tires for 20+ years, I know the limitations. Now with the addition of the plus tire, I find my line choices evolving and that's awesome to me!" —Wade Simmons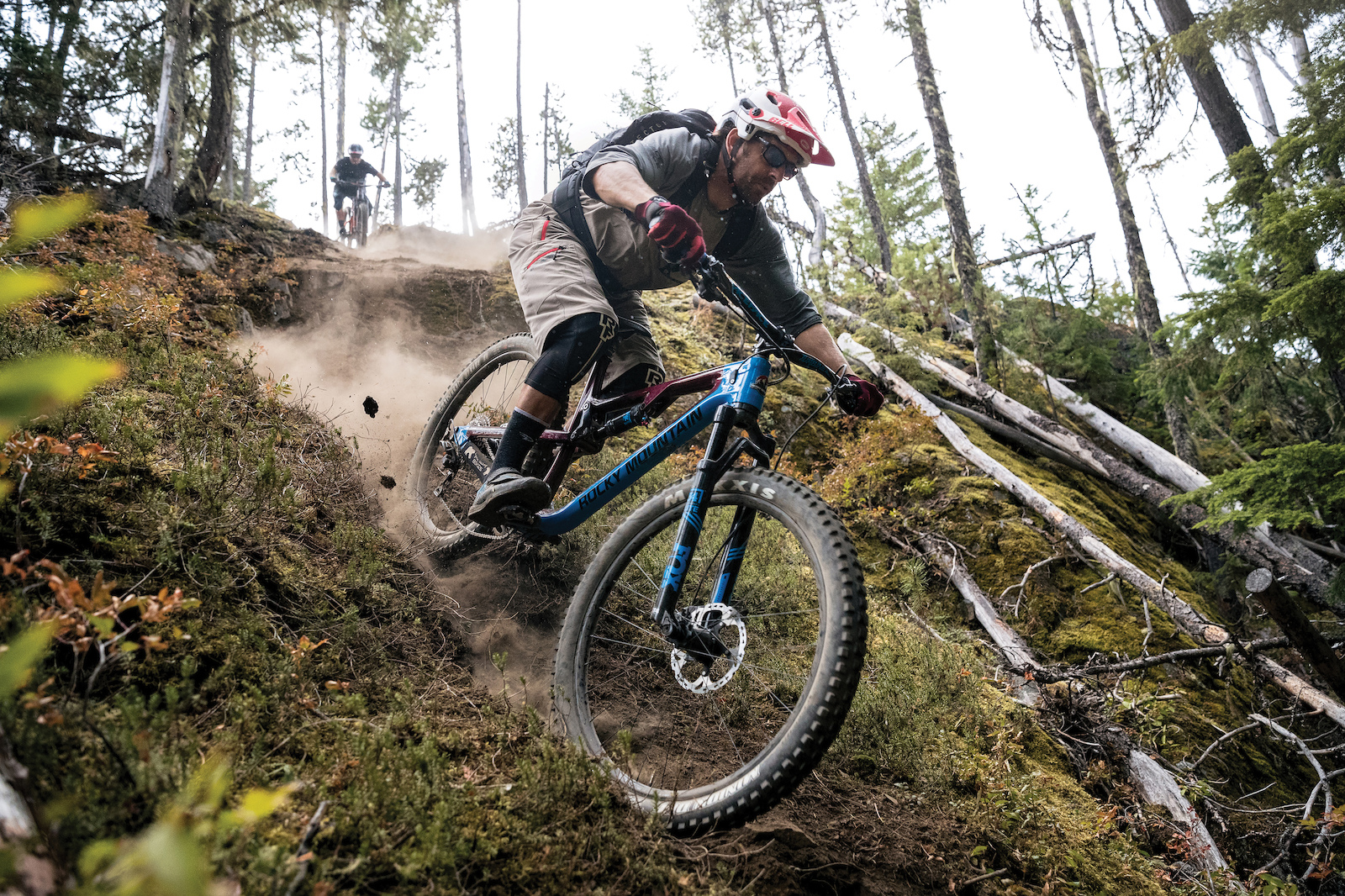 Creativity has always kept things fresh for Simmons. On the trail, he makes things happen that simply shouldn't be possible, all while navigating extremely technical terrain with ease. He's always been this way. Looking back at his segment in "Shift," a breakout role for a much younger Godfather, it's always been about pushing the boundaries of what's possible.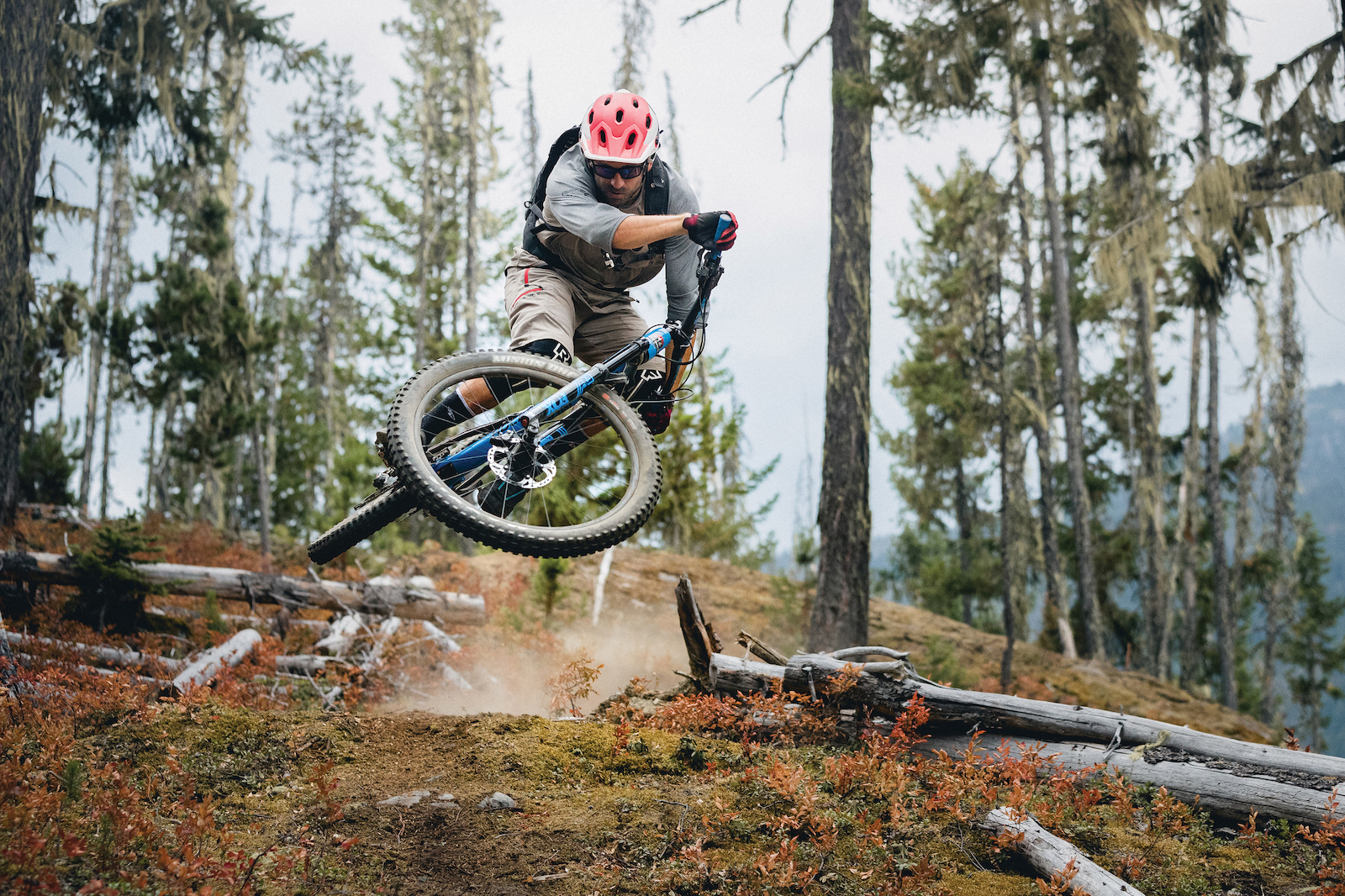 It's become apparent to me that the big advantage of running plus tires is the ability to maintain momentum and speed over rough terrain. The tires eat rough for breakfast! It can be a bit more finicky dialing in the tire pressure, but once you find the right balance, it's game on."—Wade Simmons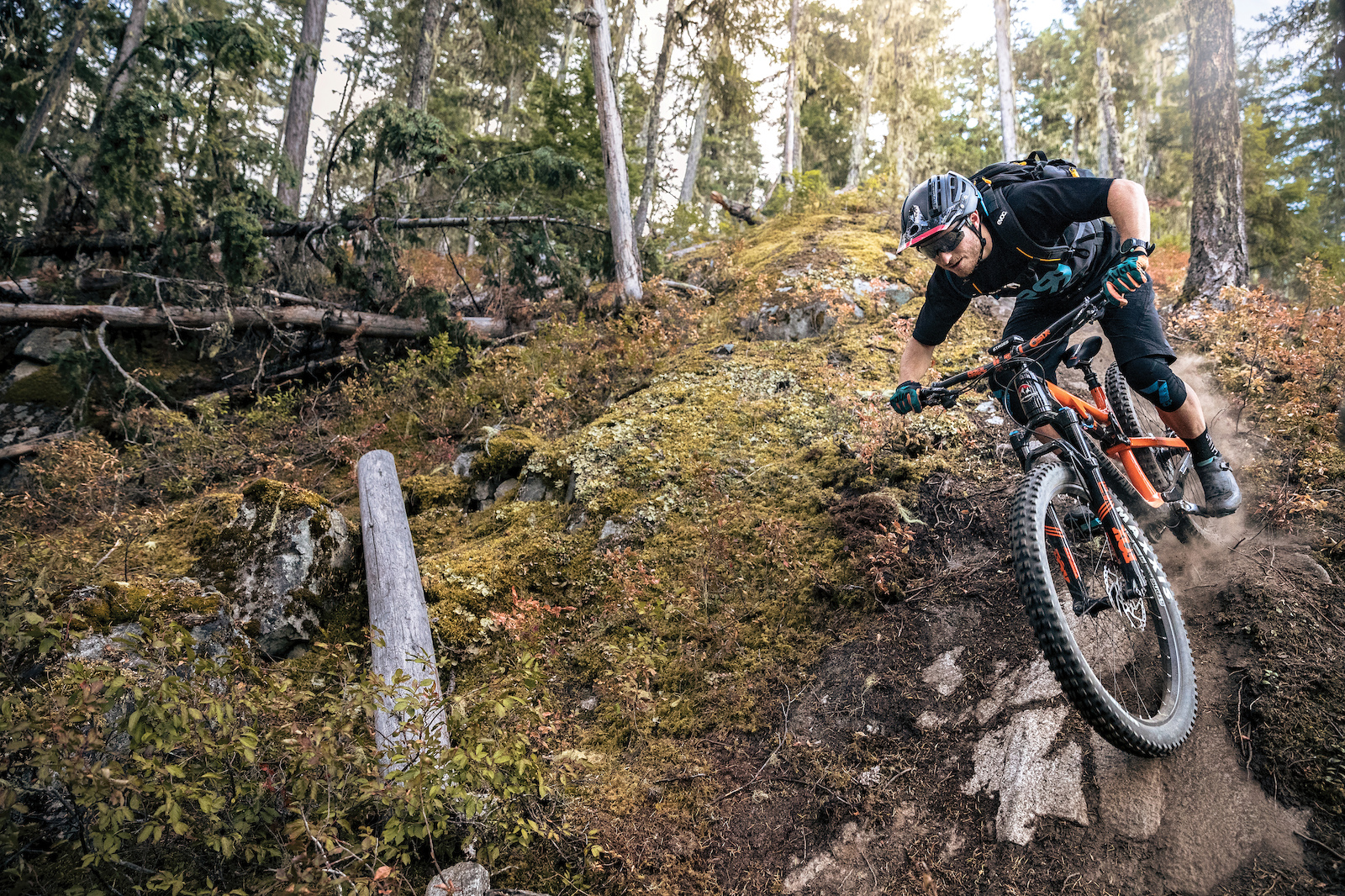 Jesse is laser-focused, and his race results against the World's fastest are proof. He knows when to go for it, and anyone who's ridden with Jesse will attest that he's all-in once his tires hit the trail. Commitment is in his character, and being able to unlock and tap into unconventional lines has set him apart at the EWS and back home in Whistler.
"Running plus tires is great for reminding me there is more than one way to see a trail. It opens my mind to what's possible and helps me visualize the different lines when practicing for an EWS race."—Jesse Melamed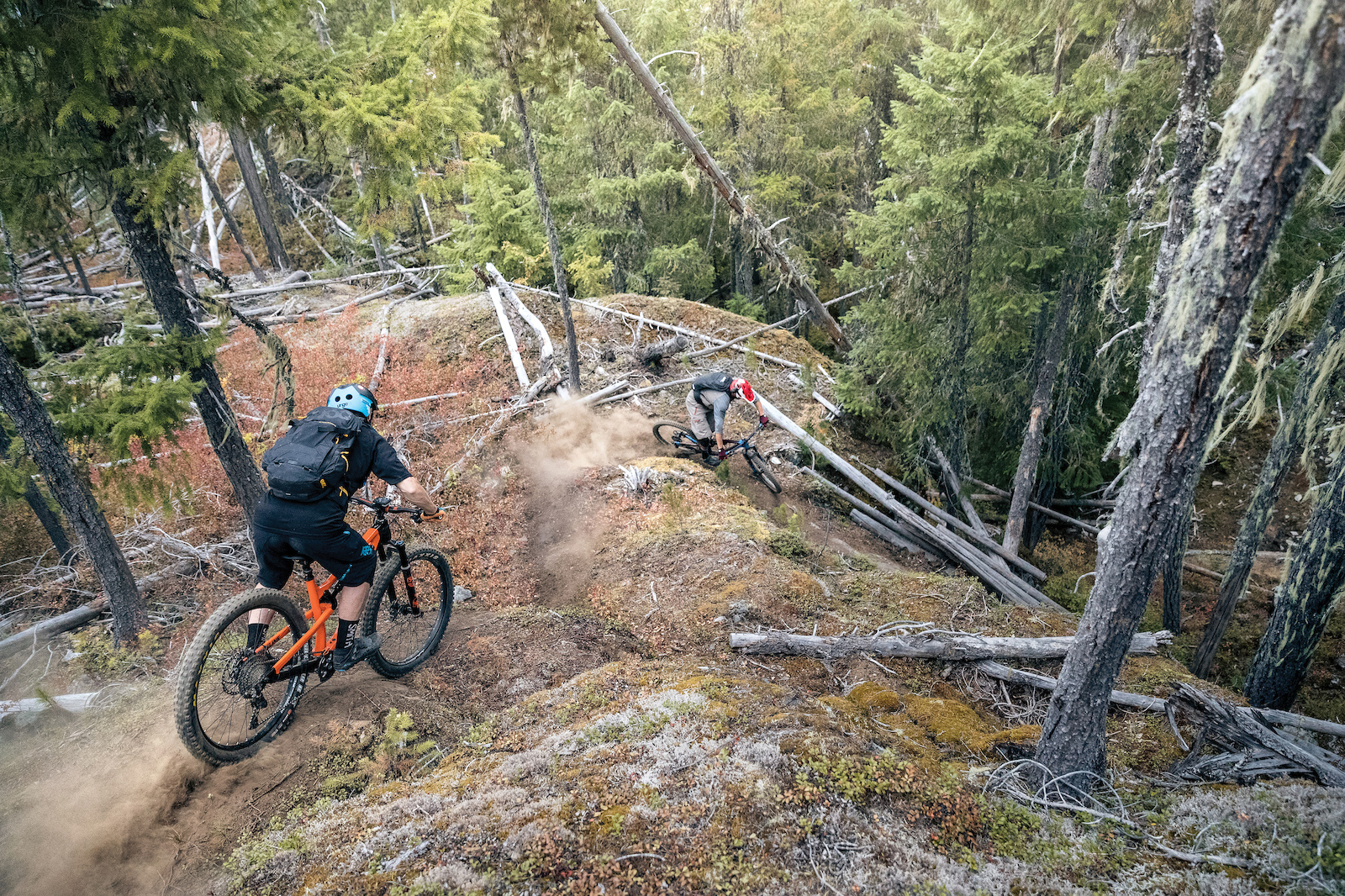 "Riding the all-new Pipeline is like riding any new bike, it's fun and exciting! I like to jump around and play with the trail, and the Pipeline lets me get away with landing in even the roughest sections and calling it a "landing". Every time I get away with riding a stupid line, it motivates me to find another one. It's my favorite way to ride a bike, and a trail." —Jesse Melamed

The all-new Pipeline has 140mm of rear travel, 10mm more than the previous version. Being able to fine-tune the geometry and rear suspension of the bike is made possible by the Ride-9 Adjustment System embedded on the link. Jesse, who is known for charging hard and as fast as possible, has his Ride-9 set to Position 1 which is the slackest and most progressive setting. Wade, who loves a supple top end and a bit more linear feeling suspension, prefers his Pipeline in Position 3.
"Jesse shreds, I love riding with that guy! He puts a smile on my face because he reminds me of myself when I was younger; just bouncing around on his bike trying stupid things. He's who I would consider being a "true" mountain biker, someone who enjoys all aspects of riding. When we ride together we constantly challenge each other, and session sketchy features and fool around... this is what mountain biking is all about!" —Wade Simmons
Presented by Rocky Mountain Bicycles
Featuring the all-new Pipeline
A Film by Max Berkowitz
Featuring Wade Simmons & Jesse Melamed
Edited by Max Berkowitz
Typography by Mike Taylor
Photography by Robin O'Neill
News
Introducing the new Pipeline
The all-new Pipeline combines the confidence of plus-sized tires in raw, technical terrain with an aggressive trail chassis.
An all-new 2018 Pipeline frame pushes the rear travel to 140mm, increases stiffness, adjusts the suspension kinematics for more efficient pedaling and better small-bump sensitivity, and gives the frame a host of next-generation features. Available in both carbon and alloy models, the Pipeline plows through greasy roots and square-edged chunder with authority, while providing near limitless traction on rocky, slippery climbs.
Please head to your local Rocky Mountain Bicycles Dealer to order your new Pipeline.
"With its plus tires, the Pipeline lets my imagination run wild with what is possible on the trails. It allows me to do all of the crazy things that I can think of." - Jesse Melamed
Intended Use: Aggressive Trail
Wheel Size: 27.5+ (29" ready)
Front Travel: 140mm
Rear Travel: 140mm
Improved suspension performance
We've increased overall progression and support at sag, while making small-bump performance even more sensitive. Higher anti-squat values dramatically improve pedaling efficiency.
Next generation features
Comprehensive evolutionary updates across the platform include features like tooled axles, singlesided bearing pivots, integrated "Spirit Guide" chainguide, boost spacing, and metric shock compatibility.
Updated RIDE-9™
Our RIDE-9™ system provides a wide range of geometry and suspension adjustability; it has been moved into the link for lighter, narrower packaging.
Progressive geometry
To add control and descending capability, we've increased reach, slackened the headtube angle, and lowered the bottom bracket. We've significantly shortened the chain stays to improve agility and used a moderately steep seat tube for efficient climbing performance.
Technical Details
Increased anti-squat for better pedaling efficiency
27.5+ and 29" Wide Trail compatible
Max tire clearance is 27.5 x 2.8 (3.0 with low profile knobs) and 29 x 2.6
Bearings at all pivots, including at lower shock mount (compatible with aftermarket shocks as well)
Blind pivots maximize heel clearance
Lighter, tooled rear axle
All Pipeline models include the FSA extend-O-matic headset. The bike ships with a second (shorter) headset bottom cup, which allows the rider to opt for 29" wheels without negatively affecting handling, and no fork swap is required.
Improved cable management: large headtube ports, full shift housing, large downtube access port, and internal shift and brake housing within the front triangle
Future-proofed to be compatible with Di2, Fox Live, and a dropper post simultaneously
Seat-tube lengths have been adjusted to accommodate longer dropper posts at maximum insertion.
Chainstay and downtube protectors. *Due to production delays, the initial shipment of 2018 Pipelines will not include chainstay and downtube protectors. They will be shipped to shops as soon as they're available. The October shipment will have them installed.
Integrated "Spirit Guide" chainguide, with 2-bolt ISCG05
1x optimized design with wider main pivot
Lower standover height
Significantly stiffer thanks to one-piece seat stays, new envelope, and updated layup (47.7% more lateral stiffness)
Modern parts compatibility (boost spacing, metric shock lengths, post-mount 180mm brakes, etc.)
All sizes fit a water bottle in the front triangle, even with a reservoir shock
Sizes: S-XL
Weight:

Frame & shock: 5.09lb (2310g), size Medium
Protectors, chainguide, & axle: 0.57lb (260g)
Pipeline Carbon 70 complete: 29.1lb (13.2kg), size Medium
Please note:
We have a new naming convention In the interest of describing our lineup more clearly, we've updated our naming conventions. What used to be called Pipeline 950 MSL is now Pipeline Carbon 50, and what used to be called Pipeline 950 is now Pipeline Alloy 50. The Pipeline still uses high-quality Smoothwall carbon and FORM alloy frames, and higher spec numbers still indicate higher end specs.
Rider
: Jesse Melamed
Photo
: Margus Riga
Location
: Whistler, BC  
Rider
: Jesse Melamed
Photo
: Margus Riga
Location
: Whistler, BC  
Rider
: Jesse Melamed
Photo
: Margus Riga
Location
: Whistler, BC  
Limited quantities and sizes available from August 24th. General availability from mid to late October. Please head to your local Rocky Mountain Bicycles dealer to pre-order. Regional availability may vary.
See the full line-up here with complete details. Check out the full list of models with specs and geometry.
News
Introducing the Pipeline
The confidence of plus-sized tires in raw, technical terrain is now available in an aggressive trail chassis. The new Pipeline plows through greasy roots and square-edged chunder with authority, while providing near limitless traction on rocky, slippery climbs.
Wheel Size: 27.5+
Intended Use: Aggressive Trail
Front Travel: 150mm
Rear Travel: 130mm
"Early on in testing I realized I could take the 'stupid lines' on our local North Shore trails and the big tires would just flow straight through them," said product manager Ken Perras. "The more technical a line, the more I felt like I was cheating."
Details
Smoothwall carbon front triangle, FORM alloy rear triangle
Fits up to 27.5x3.25 tires
1x specific
Lightweight bolt-on axles save 50g per bike compared to a Maxle
BC2™ pivots feature grease ports for easy maintenance
Stealth dropper post equipped
Internal cable routing
PressFit BB92 bottom bracket, IS42/IS52 headset, Boost axle spacing
Sizing: S/M/L/XL
Geometry
The Pipeline is based on our much-loved Instinct platform. Like the Instinct, the Pipeline is stable and balanced, with a massive range of adjustments available thanks to RIDE-9. A neutral bottom bracket drop and plus-specific fork offset contribute to an intuitive ride feel with excellent steering dynamics.
Wheels
Riders attacking technical, choppy terrain will immediately feel the benefits of high-volume plus tires. Their large contact patch and lower pressures improve traction, mud shedding, and small-bump compliance for more on-trail confidence.
Technologies
RIDE-9™ — The RIDE-9™ system allows riders to adjust geometry and suspension rates to specific riding styles, terrain, and rider weights. Nine configurations are possible thanks to two interlocking chip inserts that move on two separate axes.
SMOOTHWALL™ CARBON — Smoothwall™ carbon uses one of the world's most sophisticated carbon processes to build frames with industry leading stiffness-to-weight, ride quality, and durability. By using rigid internal molds, we are able to perfect the shape of the internal features and eliminate excess materials. We use different types of carbon in specific frame areas to maximize stiffness and impact resistance while minimizing overall weight.
FORM™ ALLOY — FORM™ alloy tubesets are engineered for specific purposes within each frame, ensuring optimized strength, weight, and ride quality. FORM™ tubesets use premium materials to meet our strict requirements.
SMOOTHLINK™ SUSPENSION — Smoothlink™ suspension stays supple yet supportive through a wider range of gears than conventional single pivot or other four-bar suspension configurations. This patented system reduces both pedal-bob and bottom-outs, while allowing us to fine tune variables like braking and climbing traction across a wide range of intended uses.
BC2™ PIVOTS — BC2™ pivots are lighter and stiffer than conventional bearing pivots. Unlike other bushings, our patented system uses a hardened alloy insert that bottoms out to control the contact of the bushing surfaces, reducing the preload that causes stiction and binding. BC2™ Pivots also feature grease ports for effortless maintenance.
See both models here. Available at authorized Rocky Mountain dealers this spring.